Maybe I'll get more real sense of it all when I return to India and meet my family, says the country's new world champion
Nikhat
Zareen
has taught our world, hindered by patriarchy and tradition seeking, that scraped knees, a broken tooth and the occasional black eye can take a girl places. That these are not chains that bind you back as society expects. Instead these are wings on which you fly to your own sun. To each her own.
"
Kitney questions hain aapke, batao
?" It is a drowsy, sleepy Nikhat who calls back from Istanbul, all because she had quietly promised to, without actually consenting. "I haven't slept since last night, the excitement of the thing, thinking about what will happen when I return to India. Tell me, who can sleep in all this madness? The hazaar interviews since morning. I haven't found a moment with myself alone," Nikhat Zareen complained, not bothering to stifle a loud yawn on Friday evening. Indian Boxer Nikhat Zareen scripts history in gold
But she seems to shake off the sleepy eyes when asked how the journey of the last three years – the infamous 'trial' with Mary Kom in December 2019, a spot in the Tokyo Olympics gone, and general alienation – affected her personal evolution. "You know, I never realised it back then, but being with my family almost immediately after that trial really, really helped me grow. I had practically grown up in camps. Then the bout happened, you look for a place to hide, you go back home. I was home, hiding, healing, when the pandemic hit. I can't even begin to explain how therapeutic being at home proved for me. It totally caught me by surprise.
"I spent all my time with my year-old nephew and niece – Abdul Malik and Mahad – and pata hi nahin chala, kahan time gaya, kya hua tha jo kuch bhi hua. The New Year came and I actually emerged a new person, completely rejuvenated and fresh. I told myself, 'Tokyo was not in my destiny. Put it away. It's a new year, let's begin afresh. Most importantly, I realised that what is not in your hands, is not in your hands. Let go. No point fretting over it. Move on, work hard, don't shirk, what has to come your way, will come your way. Today, I'm world champion. No complaints."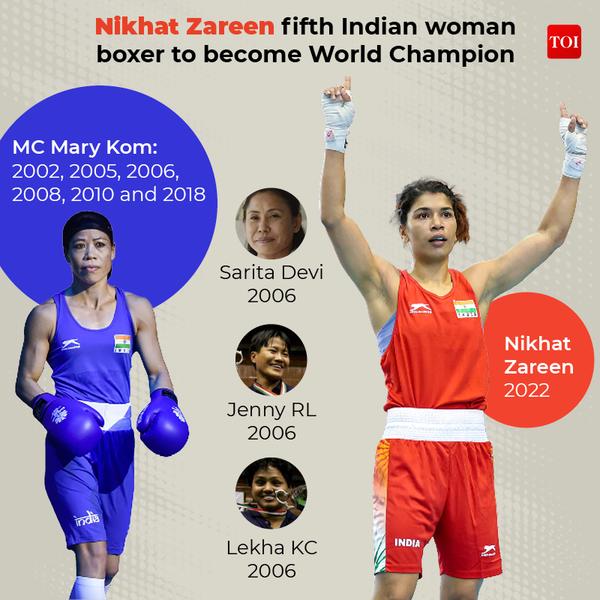 For Nikhat, indefatigable, forever hungry, hugely spirited, world champion as of late Thursday, how does she imagine life from here on? "I'll stay the same person for my close friends. If that ever changes, what was the use of all this?" she tells you.
There is something early-day Shakira-esque about Nikhat and getting a hold of her in this rush, of not just this past week but since she burst upon the scene a few years ago. It is the same feeling that had Gabriel Garcia Marquez astonished about Shakira and her mind-boggling work rate. "What's Shakira doing when nobody can find her?" the Nobel laureate and master of magic realism had asked in a famous piece for the Guardian in June 2002.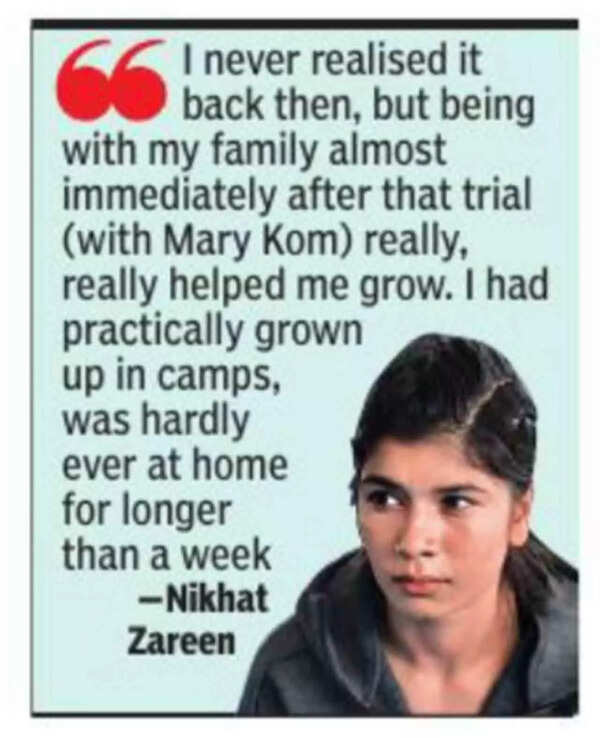 "I'm living," was the pop sensation's honest answer. Likewise, Nikhat is also living. Living her dream, maybe trying hard to catch some sleep. But it is all very magical. And very real.
Has the idea begun to sink in at all? "Kahaan … Abhi toh body hi recover ho rahi hai, mind kahin aur hain (How? The body's still recovering from the bout, the mind's still flying all over)," she says glumly, trying hard to conceal the euphoria that continues to bubble from within. "You realise, you need time alone with yourself for such things," she says. "Maybe I'll get more real sense of it all when I return to India and meet my family."
Nikhat is headed right. Family has proven the bulwark for the 25-year-old's dreams and aspirations. When her father Jameel learnt, during his employment in Saudi Arabia, that their little Bushra (Arabic for 'good news') was repeatedly getting into scraps with boys twice her size, wanting to participate in the games as them, and asking for her rightful share and corner of the playfield, he decided it was time to return home. Not to curb his tomboy daughter, but to show her much-needed direction.
We all know the story, the spotting of a boxing ring in the Nizamabad stadium complex, a question of innocence, of why only boys fought inside and where were the girls? And then the challenge made to oneself and accepted. Who was to stop tiny Bushra from then on? In 2011 came the junior world title, with it came life in and out of national camps, tournaments at home and abroad.
𝟐𝟎𝟐𝟐 𝐖𝐎𝐑𝐋𝐃 𝐂𝐇𝐀𝐌𝐏𝐈𝐎𝐍! 🥇It's finally here. The culmination of years of hardwork and perseverance. India, this one's… https://t.co/iXbIioJypY

— Nikhat Zareen (@nikhat_zareen) 1653028858000
In all this, Bushra became Nikhat, aware of her own identity, confident in her own skin, when she discovered the appeal of the smartphone. Soon the selfie and Tik-tok queen on the circuit, she forged an avatar that was bold, spunky and in sync with the times – casual yet confident, happy but not hemmed in. "I'm more famous as a Tik-tok artiste than a boxer, do you know," she would tell and laugh at her own joke.
In a sense, Marquez's earlier bemusement of his fellow-Colombian's ways helps find our own understanding of this slight, plucky, impossibly-resilient girl from Nizamabad. Her headgear still looks larger than her head. "Am I trending on Twitter," she asked, opening her post-triumph press conference from Istanbul.
Thank you so much honourable @narendramodi Ji for your kind words of encouragement and support. I am truly humbled… https://t.co/SQxqMbrpBf

— Nikhat Zareen (@nikhat_zareen) 1653037834000
"Growing up, it was always my dream to trend on Twitter one day," she added happily.
It was that same aspiration, self-assuredness and belief in ability that made her write that famous letter to the then sports minister demanding a trial for the single berth in the flyweight category for Tokyo. Was she too impatient then with wanting that berth?
Such a proud moment for all of us. 🇮🇳Many congratulations to you @nikhat_zareen for winning Gold at the Women's Wo… https://t.co/iU3F0C1Aln

— Sachin Tendulkar (@sachin_rt) 1653018401000
"Not at all," is her indignant reply. "There are four girls boxing for that one single slot. What is the use of spending four years in the camps when it has already been decided for one person? Her dream can also be my dream. Mary Kom is an absolute legend, she was the reason I took up boxing but like it or not, this is about my haq (right) as well. "For Nikhat, it's always been about 'haq'.
"Am I trending on Twitter?" Oh, yes, you are, Nikhat.